Apple TV Box 4K 64GB MXH02LL/A A2169
ঢাকার বাহীরের অর্ডারের ক্ষেত্রে ৩০০ টাকা 01888 719 119 বিকাশ মার্চেন্ট নাম্বারে
Make Payment করে অর্ডার নিশ্চিত করুন ।অন্যথায় অর্ডার ক্যান্সেল হয়ে যাবে ।
Apple TV 4K 64GB MXH02LL/A A2169
Access a variety of streaming content in HDR and 4K UHD with the 2021 edition of the?Apple TV 4K. With on-board iTunes integration and 64GB of local storage, the Apple TV 4K allows you to seamlessly enjoy your existing library of music, photos, and videos. You can also explore additional content such TV shows, movies, and games thanks to the integrated App Store. With streaming apps like Amazon Prime Video, Netflix, Disney+, Apple TV+, and HBO Max, you can enjoy an array of media content. Internet access is enabled by built-in Wi-Fi 6 and Ethernet connectivity. Additionally, Apple AirPlay connectivity allows you to wirelessly mirror content from compatible Apple devices such as iPhones, iPads, and MacBooks.
The Apple TV 4K connects to your display via HDMI and supports resolutions up to 4K UHD with support for the HDR10 and Dolby Vision HDR formats, as well as Dolby Atmos surround sound via a separately available Ultra High-Speed HDMI cable. The included rechargeable Siri Remote is equipped with a microphone that enables you to speak directly to Siri to quickly find the content you're looking for. With its 3.9″-square footprint, the Apple TV 4K offers easy placement near your display. The included Lightning-to-USB cable allows you to charge the remote control.
True-to-Life Picture and Sound
Look no further than the Apple TV 4K with Dolby Vision to elevate your entertainment to its most vivid. Then fully immerse yourself in three-dimensional audio with a Dolby Atmos-compatible sound system, and you'll see how the Apple TV 4K brings home a truly cinematic experience.
High Frame Rate HDR is a Game Changer
At twice the frame rate of high dynamic range (HDR) video, the Apple TV 4K delivers brighter, more realistic colors and greater detail. Fast-action sports look incredibly smooth, nature documentaries come alive, and YouTube videos jump off the screen.
Balance Color with a Perfectly Calibrated Combo
Adjusting your television settings to get the best picture quality can be frustrating. Not anymore. The Apple TV 4K now works with your compatible iPhone to automatically calibrate what you watch. Just point your iPhone at your TV screen once, then sit back and see how amazing your shows and movies are supposed to look.
All the Best TV, and It Shows
From period pieces to shows that rule the day, the Apple TV 4K has great programming from apps like Amazon Prime Video, Netflix, Disney+, HBO Max, and ESPN3, plus critically acclaimed Apple Originals from Apple TV+.
Apple TV App
Apple Original shows and movies from Apple TV+. Just the premium channels you want. Thousands of movies to buy or rent. Popular streaming services and cable TV providers. It's all your TV, all in one app.
If It's Happening Live, It's Happening Here
The Apple TV 4K teams up with some of the world's largest TV networks, broadcasters, and pay TV providers, making it the only box you need to connect to your TV. Find sports from apps like ESPN and MLB; late-breaking news from apps like ABC, CNN, and Bloomberg; and your favorite shows on apps such as Hulu, YouTube TV, and Sling TV. If you subscribe to Charter Spectrum, AT&T TV, Optimum, or other pay TV providers, you can also watch live channels and thousands of on?demand programs with the Apple TV 4K, bringing you an incredible lineup of content to enjoy.
Control that Runs Circles around Other Remotes
The new Siri Remote brings together speed, fluidity, and precise control with a touch-enabled clickpad. Click to easily browse titles on the Apple TV app. Swipe to move through long playlists in Apple Music. Use a circular gesture on the outer ring to fast-forward or rewind and find just the scene you're looking for. A dedicated Siri button is on the side, just like the iPhone. Simply ask for a movie, show, genre, actor, or song you love.
Apple TV+
Watch critically acclaimed series, compelling dramas, groundbreaking documentaries, kids' entertainment, comedies, and more ? with new Apple Originals added every month.
Apple Fitness+
Choose from a catalog of workouts led by expert trainers. In-session metrics from your Apple Watch, like heart rate and calories burned, are shown on your big screen in real time, so you can focus on your workout and see how you're doing.
Apple Music
Access over 75 million songs and music videos from the '80s to today's top artists ? all through the Apple TV 4K. You can even sing along to your favorite songs ? word for word ? with lyrics view.
Apple Arcade
The experience of playing Apple Arcade games ? from brain teasers to magical quests to endless runners ? is all too immersive on your big screen with the Apple TV 4K. Gameplay gets more realistic with the A12 Bionic, which powers smoother motion and greater responsiveness. Multiuser support helps players keep track of their individual game levels, leaderboards, and invitations ? and switch between players at any time. And you can connect more of your favorite controllers to Apple TV 4K, including PlayStation and Xbox wireless controllers.
Audio Sharing
When the kids go to bed, Audio Sharing lets you connect two sets of AirPods to the Apple TV 4K and still enjoy movies and shows ? with every scream, explosion, and roar.
iPhone Control
Convenient built-in controls appear on your iPhone on the Lock Screen and in Control Center, so you can easily play, pause, fast-forward, rewind, and adjust the volume on your TV.
HomeKit
Get a live view of your front door. Control your thermostat. Double-check the locks. From the Home app on your iPhone or iPad, you can even create a scene called "Movie Night" that turns on your TV, lowers the shades, and dims the lights, all at once.
Share via AirPlay
With AirPlay, you can share the latest movies, vacation photos, music, and even 4K HDR videos from your iPhone or iPad to the Apple TV 4K in their full resolution.
Multiuser Support
With multiuser support in Control Center, all your family members can quickly find only the shows they want to watch. Up Next lists, video and music collections, recommendations, and more are tailored to each of you.
Photos
Enjoy your photos, videos, and shared albums on the big screen. Memories automatically creates collections of your best, and the Apple TV 4K lets you see them in 4K HDR.
App Store
The App Store on the Apple TV 4K has something for everyone. Thousands of top sports, fitness, and kids' apps. And, of course, a world of games.
Made with Better Materials
100% recycled aluminum in the Siri Remote enclosure
100% recycled tin in the solder of the main logic board
35% or more recycled plastic in multiple components
Accessibility Features
Accessibility features help people with disabilities get the most out of their Apple TV. With built-in support for vision, hearing, mobility, and learning, you can easily find and enjoy your favorite entertainment. Features include:
VoiceOver
Zoom
Increase Contrast
Reduce Motion
Closed Caption and SDH Support
Audio Descriptions
Siri and Dictation
Type to Siri
Switch Control
System Requirements
Purchases, rentals, and Home Sharing require an Apple ID that you use for the App Store and other Apple services
802.11 wireless, Ethernet network, or broadband internet access
4K and HDR compatible TV for 4K and HDR streaming
Acceptance of software license terms
HDMI cable
Additional Features
The remote's rechargeable battery lasts for months on a single charge with typical daily use
The remote charges via USB from your computer or an optional power adapter
The remote can control your TV or receiver via IR or CEC
Thread connectivity
Compatible with select Bluetooth keyboards
ENERGY STAR certified
Mercury-, BFR0, PVC-, and beryllium-free design
Similar Products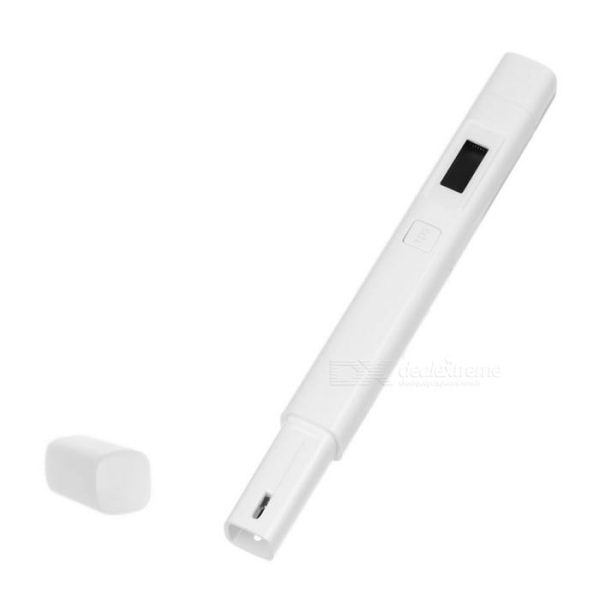 590.00

৳
? Accurately test your water quality
? The lower the TSD value is, the purer the water is
? Determines whether purification is required
? IPX6 waterproof
? Precision in measurement
? Automatic temperature calibration
What is the price of Apple TV Box 4K 64GB MXH02LL/A A2169 in Bangladesh?
The latest price of Apple TV Box 4K 64GB MXH02LL/A A2169 in Bangladesh is 27395৳. You can buy theApple TV Box 4K 64GB MXH02LL/A A2169 at best price from our website or visit any of our showrooms.