MCDODO Charger Universal Travel Charger With Dual USB Ports Black
ঢাকার বাহীরের অর্ডারের ক্ষেত্রে ৩০০ টাকা 01888 719 119 বিকাশ মার্চেন্ট নাম্বারে
Make Payment করে অর্ডার নিশ্চিত করুন ।অন্যথায় অর্ডার ক্যান্সেল হয়ে যাবে ।
MCDODO Charger Universal Travel Charger With Dual USB Ports Black
Feature :
All-in-one Adapter with Fuse protect, Built-in Safety Shutters, LED Power Indicator.
Dual USB ports. Ideal for iPhone, Samsung Tab, iPod, Smartphones, 5V Tablets, Bluetooth Speakers & Headset etc.
Rated power: 250V~/660W, 110V~/1440W. Power output: 100-240VAC~50-60HZ 6A Max. Only apply to the use of small power electric appliances when traveling, such as mobile phone, digital products, computer with low power of small household appliances.
Adapter plugs do not convert Voltage, ensure that your mobile electronics take input voltage from 100-240v.
No conversion is required when you mobile electronics power plug is the same as the wall. Please follow the user instruction and prevent yourself from harm and damages
The Charger accepts plugs from all countries including China, Japan, USA, Europe, UK, Hong Kong, Singapore, France, German and more 150 countries.
Built-in safety shutters protect users from the direct touch of the live parts on the socket outlet, especially for the children.
Specification? :
Brand: ?Mcdodo
Manufacturer: ?Mcdodo
Model: ?CP-4380
Product Dimensions: ?6 x 6 x 5.9 cm; 200 Grams
Item model number: ?CP-4380
Compatible Devices: ?Smart Phone/iPad/Bluetooth/GPS and other devices
Special Features: ?Mcdodo Universal Travel Charger,Dual USB ports,5V, 2.4A,Black
Batteries Included: ?No
Batteries Required: ?No
Number of Ports: ?2
Connector Type :?USB
Manufacturer: ?Mcdodo
Item Weight: ?200 g
Similar Products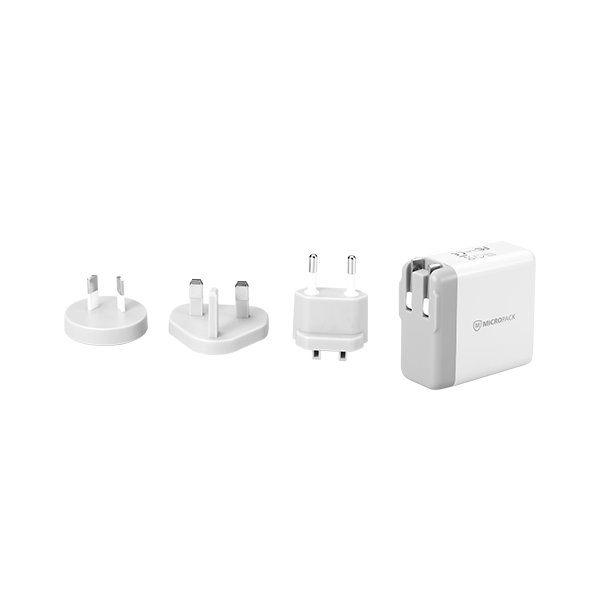 2,250.00

৳
Brand:

Micropack

Model: MWC-236 Q3
Worldwide Travel Charger
With Newest Quick charge 2.0 & 3.0 technology
QC2.0 port, charge up to 75% faster than conventional USB charging
QC3.0 port, 4X faster than conventionl USB charging, 38% more efficient than QC2.0 charging
Input: 100-240V AC,50-60hZ
Output 1 (QC2.0): 5V/2.4A, 9V/2A,12V/1.5A
Output 2 (QC3.0): 3.6-6.5V/3A, 6.5V-9V/2A, 9V-12V/1A
With Multi changeable plug: UK/US/EU/AUS
Full protection: over current, over charge and short circuit protection
Power: 36W
What is the price of MCDODO Charger Universal Travel Charger With Dual USB Ports Black in Bangladesh?
The latest price of MCDODO Charger Universal Travel Charger With Dual USB Ports Black in Bangladesh is 1775৳. You can buy theMCDODO Charger Universal Travel Charger With Dual USB Ports Black at best price from our website or visit any of our showrooms.